Thank you for requesting our FREE Special Report!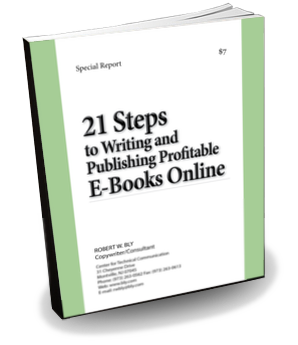 To get your free special report (PDF) please click here. After clicking, you will see the report in your browser. Then you can choose File > Save to save it to your computer. In addition, you will be sent an e-mail with a link where you can download the report.
In this report, you will discover the 21 steps it takes to write, publish, and sell e-books for fun and profit. Starting your own e-book publishing business is one of the best home business opportunities going today. When you master the 21-step e-book publishing process, you can earn an annual six-figure income "working" from home only a few hours a week, as incredible as that sounds!
Your privacy matters to us. Rest assured I will never, ever, sell or rent your email address to third-party marketers. So I want you to know that when you're on my list, you're always SAFE. Make sure to check your inbox several times a week for important e-newsletter issues and other special messages. And to make sure you don't miss a thing, don't forget to 'white list' Bob Bly's Direct Response Letter as a safe sender. This will ensure there's zero interruption in receiving my emails. Thanks again and congratulations on taking the first step to the profitable world of selling ebooks online!
Sincerely,


P.S. I make an annual six-figure income selling e-books in my spare time. This has given me total financial independence and eliminated the need for me to have a 9 to 5 job! To find out how you too can make a great income working from home in your own e-book publishing empire, read my message below now: